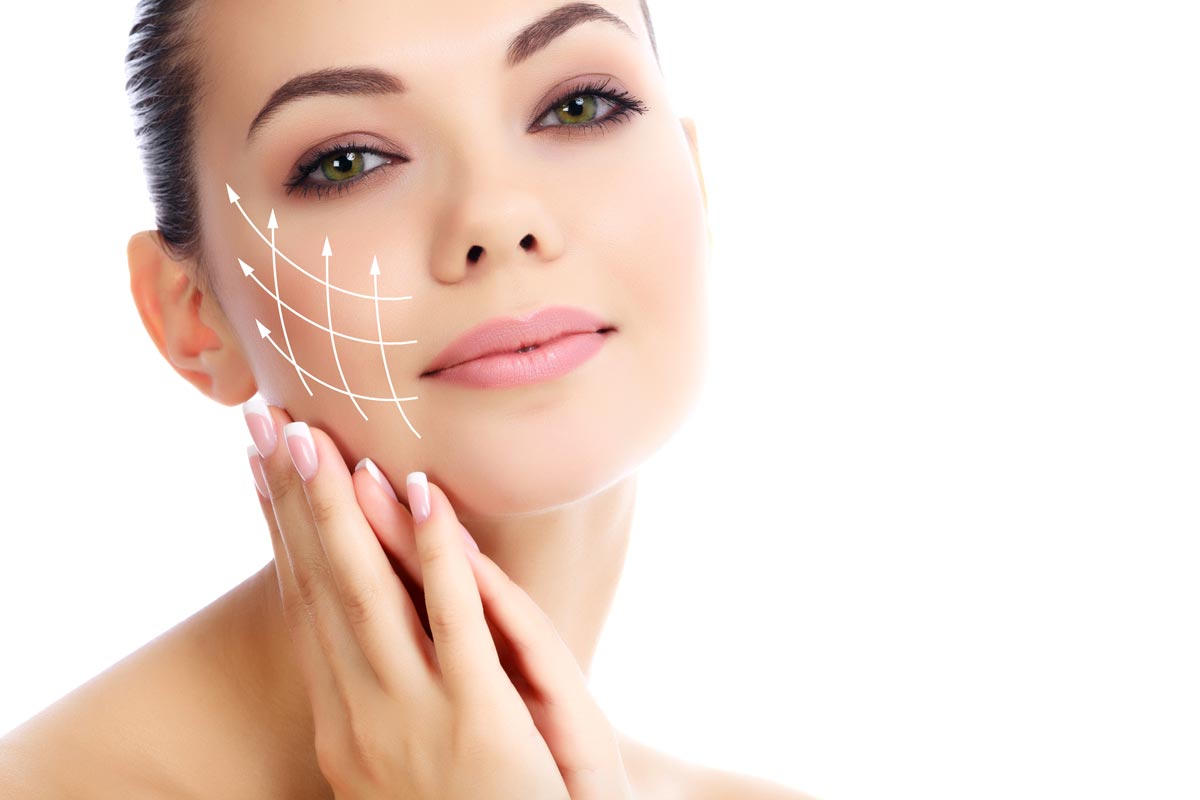 Botox Injections for Reduction of Wrinkles
Wrinkle reduction procedures using Botulinum toxin A (commonly known as Botox ®). These reduce the appearance of wrinkles and result in a much smoother look.

These injections are frequently used for the treatment of forehead lines, frown lines, crow's feet, bunny lines, gummy smile, jaw line reduction and neck lines. The procedure involves injection of small amounts of toxin either into the muscular tissue or under the skin. It can take up to 2 weeks for full effects of medicine to appear and effects can last up to 3 to 4 months.
What is Botox and who could it be of benefit to?
The majority of people know of botulinum toxin as Botox. But Botox is not a generic name, it's actually trademarked by a firm called Allergan. Botox is a very useful solution for people who have dynamic lines. Dynamic lines are those lines which appear when we make facial expressions. In contrast to dynamic lines or wrinkles are what we call static wrinkles. Static wrinkles or static lines are facial lines which are present regardless of whether or not we are using our muscles of facial expression.
The perfect candidate for Botox injections:
Botox works most effectively for individuals who have dynamic wrinkles. So, people from their mid 20's onwards are ideal candidates for having a botulinum toxin treatment, especially if you have a dynamic line which is deep when you move your muscles during facial expression.

When individuals are in their late 50's or early 60's and they have a great deal of static lines, Botox can still work for them, however, the effectiveness of reducing the deepness of the lines can sometimes be lower. For people in their late fifties or onwards, it not always feasible to completely remove deep static lines. So, an ideal candidate for botulinum toxin procedures would be people in their late twenties, thirties, and forties, but is by no means limited to that age range.

If you have just begun to get deep lines when you use your facial muscles or if you recently started to develop permanent wrinkles, that is lines which exist when you do not use your face muscles, then you might be a great candidate for Botox injection treatments.
Botox for Significant Sweating - Underarms, Feet, Forehead & Palms
Medically known as hyperhidrosis can be extremely embarrassing and stressful. We are able to help you using Botulinum toxin A which is injected into the problem area stopping the brain's signal that usually causes sweating in that particular area. Regularly treated areas are underarms, palms, feet and forehead.
What you can expect at DermaCare Medical
When you visit us for your free consultation, you will be able to discuss your preferred results with our experts. Our doctors will describe specifically which group of muscles they are planning to target and specifically which part of your face will be treated. We will explain what is likely to be achievable and you will have the chance to talk about any issues that may be making you nervous about the treatment.

When you've gone through your treatment we will provide you with aftercare guidance which mostly consists of staying away from any strenuous activity. Within 24 hours you'll be able to return to all your activities and go back to life as normal.

Please do contact us if you'd like any further information on out Botox treatments or wish to schedule a consultation.
How To Find And Interview A Fantastic Botox Specialist In Fife
It can be a complex task to locate a botox practitioner who is a suitable match for you. There are many varying factors that you need to think about when you're in the market for botox. Ensuring that you're receiving the proper care right now can help prevent issues from emerging down the road. Observe these suggestions and begin finding the perfect botox doctor for you.
Occasionally, botox practitioners might not respond to questions right away as they may pertain to info outside their field of expertise. You can have faith that your specialist is giving you the absolute best treatment possible if they're doing their best to answer any questions you have and by confronting any concerns that you harbor regarding your situation. Be proactive about your skin health and work with botox doctors who are equally proactive in meeting their professional obligations.
If you experience problems in setting up appointments with your chosen practitioner, it can be a sign of an inefficient and ineffective office staff. If this happens more than one time, it's a great opportunity to find another specialist, one who has a composed staff who will help you in getting the best care.
Consult from other patients that your botox practitioner has given treatment to get more information of what to expect from them. It is crucial that you get to meet and speak to people who are in a position to assist and guide you and answer your questions before you commit to being one of any botox practitioner's new patients. This may help increase the chances of locating the right professional and to steer clear of less than dependable ones.
It is important that any botox practitioner that you consult has been educated by a great, reputable university. More so, you will probably be interested to know their level of schooling. When you go into your doctor's consulting rooms, look at the qualifications hanging on the wall, and remember the names of the associations. Once you are home, research these qualifications online and find out about their programs.
Kindness and concern for the patient are two key qualities every botox professional should possess. The quality of communication between skin health professionals as well as their patients has a direct effect on the quality of care. Your skin health professional should make you feel as though he is paying attention to your concerns and providing you with the very best treatment. If the answer is no, start shopping around for another botox professional.